Adam M. Roseman is extremely successful, and in fact, there are many who claim that he is successful before his time! For someone so young to be involved in global investments , and specifically venture capital investment in China.

The following article, 20 businesses run by people in their 20s, appeared in Entrepreneur. Here is an excerpt of the article. The full article is hosted on Adam M. Roseman Onine here.
The 20 include Levi Brooks & Jason Farrel, Val Kolton, Jamie Dietenhofer,  Tim Urban, Julie Novotny, Adam Roseman, Ben Goldhirsh, Mikayel Israyelyan among others.
"Call it the entrepreneurial generation. Those born in 1977 and thereafter–many of whom are in their 20s–are more interested in starting their own businesses, and at younger ages, than any previous generation.
University programs in entrepreneuralism were rare years ago, but today more than 350 colleges and universities have such programs… "
Adam Roseman was mentioned!
SHANGHAI, China, March 2009 — ARC China, Inc. ("ARC"), a merchant banking entity based in Shanghai, Chin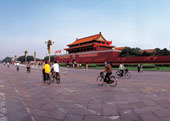 a, is pleased to announce a strategic cooperation with Chengdu-based Circle Focus (Sichuan) Investment Co., Ltd ("Circle Focus").  The partnership will extend to sourcing, financing, and providing strategic advisory to fast growing companies in and around Sichuan Province.
"This partnership with Circle Focus will increase our reach within the vicinity of Sichuan Province, which we believe will be the prime beneficiary of the next wave of growth in China,"
said Adam Roseman, CEO of ARC China, Inc.
"We look forward to working together to identify and help build companies that will emerge as economic leaders in Western China for years to come."
Circle Focus (Sichuan) Investment Co., Ltd. was established in Chengdu, Sichuan Province in 2005.  Circle Focus provides growth capital and management consulting services to a range of companies in the alternative energy, real estate, retail, media, and healthcare industries within Sichuan Province.
For additional information, please contact:
ARC China, Inc.
Bund 23
The Bank of China Building, 14/F
23 Zhongshan East No.1 Road
Shanghai 200002, P.R. China
Phone: (86-21) 6323 1717
Fax: (86-21) 6323 5228
Press releases regarding ARC China and Adam Roseman appear on ARC China's website. These Press releases can also be viewed on Adam M. Roseman Online.
The Press release from July 2008
ARC China, Inc. Announces China Expansion with Opening of Shanghai Office
SHANGHAI, China, July 2008 — ARC China, Inc. ("ARC"), a merchant banking entity affiliated with Beverly Hills, California-based ARC China Investment Partners, LLC, is pleased to announce its further expansion into China with a newly-opened China headquarters office in Shanghai and the hiring of additional staff focused on deal sourcing, on-the-ground due diligence and providing support for its existing portfolio companies. ARC China's Shanghai offices are located at 23 Bund in The Bank of China Building and its China team now consists of approximately one dozen staff in Shanghai, Beijing and Chengdu.
"We strongly believe in the continued robust growth and investment opportunity in China and
therefore felt it was necessary to allocate additional resources to increase our local presence to
aid in the diligence process of our transactions and provide increased support to our existing
portfolio companies. We have completed a handful of transactions in our first year of focus on
the China market and see our transaction pipeline consistently increasing over the coming
years." said Adam Roseman, CEO of ARC Investment Partners, LLC.