ARC China Announces Partnership with Circle Focus
SHANGHAI, China, March 2009 — ARC China, Inc. ("ARC"), a merchant banking entity based in Shanghai, Chin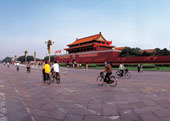 a, is pleased to announce a strategic cooperation with Chengdu-based Circle Focus (Sichuan) Investment Co., Ltd ("Circle Focus").  The partnership will extend to sourcing, financing, and providing strategic advisory to fast growing companies in and around Sichuan Province.
"This partnership with Circle Focus will increase our reach within the vicinity of Sichuan Province, which we believe will be the prime beneficiary of the next wave of growth in China,"
said Adam Roseman, CEO of ARC China, Inc.
"We look forward to working together to identify and help build companies that will emerge as economic leaders in Western China for years to come."
Circle Focus (Sichuan) Investment Co., Ltd. was established in Chengdu, Sichuan Province in 2005.  Circle Focus provides growth capital and management consulting services to a range of companies in the alternative energy, real estate, retail, media, and healthcare industries within Sichuan Province.
For additional information, please contact:
ARC China, Inc.
Bund 23
The Bank of China Building, 14/F
23 Zhongshan East No.1 Road
Shanghai 200002, P.R. China
Phone: (86-21) 6323 1717
Fax: (86-21) 6323 5228